Beyond the hype surrounding 3D printing are the realities of physics and chemistry. With the A2 and A4 from 3ntr you will master those realities to achieve prototypes that stand up to field testing as well as long lasting end-use parts.
Build Chamber
Generous capacity for parts up to 23″ x 13″ x 19″ (depending on configuration)
Individually controlled heating elements to achieve optimal accuracy and finish from the material you use

Nozzle up to 806° F (430° C)
Bed up to 320° F (160° C)
Chamber to 194° F (90° C)

HEPA filtered air flow to limit contamination
Printer Bed
Reusable bed for thousands of prints with minimal maintenance
Optional PEI Diamond Tray
3 Extruders
One extruder for support material
Two extruders for build material
Allows combinations of materials on a single build
Liquid cooling at each extruder for precise temperature control
Unprecedented freedom in design
Tungsten Carbide Bliss nozzles (optional)
Integrated Camera & Web Monitoring
Monitor the build process from another location
Make remote adjustments through the web interface
The World's Best Material Management System (optional)
Protect your expensive spooled material
UV-free
Low humidity
Real-time monitor displays material usage and amount remaining
Holds up to six actively mounted spools
Feed into the printer, keeping the spool protected
Doubles as printer base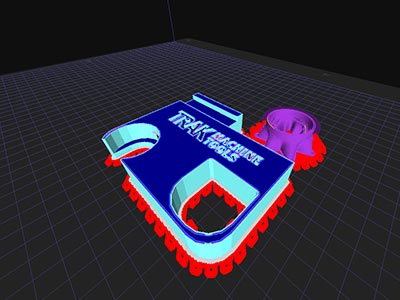 Powerful, Flexible User Interface
KISSlicer is powerful software that prepares STL files for optimized printing. The user interface enables you to select preloaded settings or to adjust dozens of variables yourself.
Adaptive Layer Control — enables you to optimize layers
Preload — precise control of how the printer extrudes filament
Expert Mode — enables you to precisely set variables for your own unique configurations
Fractional Number of Loops — improves bonding between loops and infill
Lock Paths — lets you configure different styles for different parts on a single print
Wizards — guides the processes of setting up Profiles and Tuning the material flow
Object Packer — to maximize the output on the build table
...and dozens more innovative features!
Materials development is the new technology frontier in 3D printing. Many of the world's top chemical engineers are racing to develop the thermoplastics of tomorrow. But many new, innovative materials already exist. With the Open Materials platform on 3ntr Printers, you are free to explore and develop superior solutions.

Or stay with the tried and true. We've done the research and established Material Profiles for dozens of materials, with more added all the time. We'll give you advice for getting the best results, including the type of Support Materials that will work best.
ABS & ASA
You will love the results you get when printing these standards of the industry. You are free to use your own sources for the material, but we also offer formulations especially made for 3D printers.
Support Material
With the 3ntr, you can have a different support material and build material. Choices include break-away and soluble material that complement the build material. Your part finishes and delicate features will come out beautifully.
Design For Additive (like never before)
Your imagination gets a boost from the multi-material capability of 3ntr printers. The part shown here is the result of combining formerly separate parts to achieve a single design, integrating a hose and filter housing.
Combine Materials for Lower Cost
The part shown here was made with a combination of two different build materials. For the internal shaft, IGUS Iglidur is used for self-lubricating and hardness. To minimize the part expense, the body is made of ASA.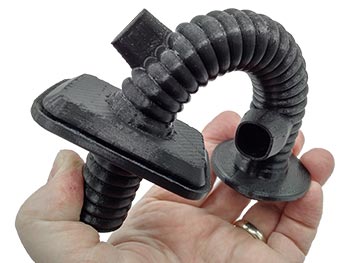 Rubber-like Materials
The controlled build chamber and powerful software enables you to make soft, rubber-like components.
Multiple Colors
You can print in two colors simultaneously.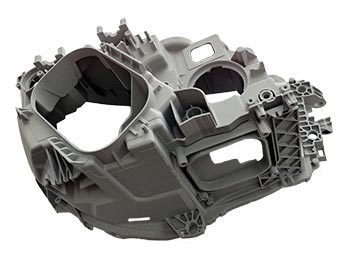 Large & Complex
This part requires the precision of an industrial grade 3D printer. Soluble support material was used to preserve the precision of the delicate features.
Material Information
Listed below are just some of the options available. 3D printer materials are available on our parts & accessories website.
Material
Density
Max. Operating Temp.
Elongation at Break
Max. Tensile Strength (PSI)
Flamability (UL94)
Use Cases
Nozzle Type
Heating Chamber
ABS
1.05
85° C
5.52%
1539
HB
General use
Std.
Yes
ASA
1.07
95° C
10.00%
2010
TBD
High UV resistance; general use
Std.
Yes
Casting "Wax"
1.1
-
-
-
-
Investment casting pattern material with very low ash (.03%) at burnout
Std.
Yes
GF30-PP***
(GF polypropylene)
.94
~150° C
1.6%
8700
TBD
Designed for functional prototyping, industrial tooling, etc...
Tungsten
Yes
IGUS Iglidur
1.21
90° C
-
-
-
Printed-in-place bearing and low friction surfaces
Std.
Yes
nPOWER (PPS)
1.27
210° C
7.40%
1966
VO
Self-extinguishing, high temp, extreme chemical resistance
Std./HT*
Yes
Nylon 645
1.15
120° C
186%
5188
HB
Chemical resistance of Nylon 6,6 with slightly lower HDT
Std.
Yes
PACF**
1.14
100° C
4%
9267
HB
High fatigue resistance
Tungsten
Yes
PCABS
1.13
109° C
8.40%
2006
HB
Fast print, high impact resistance, metal plating
Std.
Yes
PEKK
1.29
172° C @ 1.8 MPa
2-4%
~7000
V94
Developing, annealing required for max. performance
Std./HT*
Yes
TECH-G
1.27
75° C
3%
5900
-
Good chemical & fatigue resistance, FDA CFR 177.1315 for food & drink
Std.
Yes
Elasto85A
1.19
95° C
680%
3700
-
Elasto/soft parts
Std.*
No
Elasto95A
1.22
95° C
580%
5650
-
Elasto/semi-soft parts
Std.*
No
Elasto75D
1.18
95° C
295%
6900
-
Elasto/tough parts
Std.*
No
Material Management System — Industry-leading Safety & Performance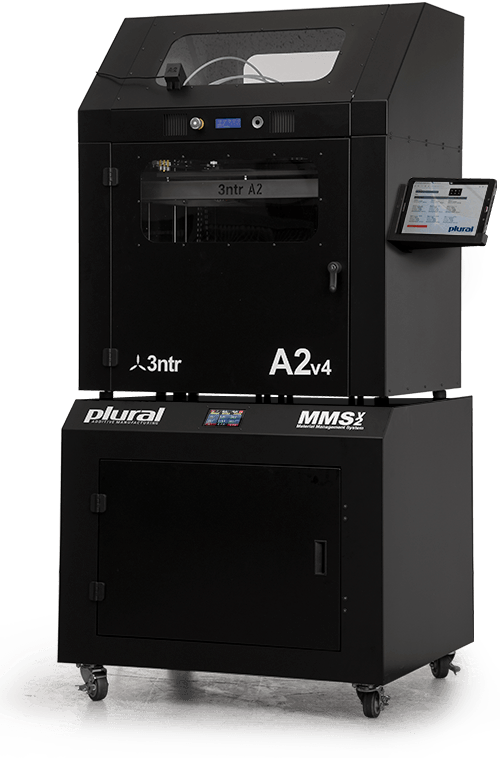 3ntr A2 3D Printer shown with MMSv2 Material Management System
Enhanced Material Performance & Life
Keep materials dry and printing at their best
Stop material and part quality from degrading over time
Have multiple materials ready to print quickly & easily without storage hassles
Cost Effective Manufacturing
Optimize material usage while saving time, reducing failed prints and improving part quality
24/7 printing with remote monitoring & control
Monitor Material Quantities in Realtime
Live readout of remaining material of each of 6 reels on MMS display on included 10″ wireless tablet
Remote readout via web browser of type of material loaded at each position, and its remaining length2
Integrated HEPA/VOC Control
Environmental protection from volatile organic compounds
Fully integrated filtration system with activated charcoal
---
Material Performance Enhancing Safety, Storage & Measurement Solution
Introducing the Material Management System (MMS) for optimized material handling with integrated HEPA and volatile organic compound health protection. The MMS keeps material dry for optimized bonding, performance and the best possible surface finish.
The automated weighing and reporting system provides you with real-time remaining material status for up to six spools at a time (from 4kg to 500g spools), any three of which are fed to the printer.
The MMS also manages power, requiring only one 220V connection for the cabinet which supplies the correct power and voltage to the printer, the print server and the web camera.
The MMS system includes an industrial, fanless print server with the power to support live video streaming of HD quality print monitoring, and increases storage from 16GB SD card standard with the printer to 128GB SSD for time-lapse recordings, virtually unlimited gcode storage and increased robustness.
The MMS features chamber heating (40°C), a powerful desiccant drying solution, integrated HEPA filtration with activated charcoal stage to control VOCs, increased connectivity options and a 10″ wireless screen control.
Enabling industry-leading safety, print quality, part size capability and user convenience, 3ntr printers with the MMS offer the best, most cost effective open material industrial additive manufacturing solutions available.
MMS Specifications
Width: 38.125″ / 96.84 cm
Height: 32.5″ / 82.55 cm
Depth: 36″ / 91.44 cm
Weight: 290 lbs / 132 kg
Shipping Size & Weight: 42″ x 42″ x 36″; 370 lbs / 168 kg
Power Requirements: 220V - 15A
Specifications
Dimensional Data

A2
A4
Printer Dimensions
940 x 715 x 1125 mm
37 x 32 x 44.3″
528 x 515 x 615 mm
20.7 x 20.2 x 24.2″
Printer Weight
110 kg (242 lbs.)
43 kg (94 lbs.)
Shipping Dimensions
1041 x 831 x 1321 mm
41 x 32.7 x 52″
681 x 620 x 920 mm
26.8 x 24.4 x 36.2″
Shipping Weight
226 kg (498 lbs.)
69 kg (152 lbs.)
Electro/Mechanical Data

A2
A4
Ambient Operating Temperature
16-32° C (61-90° F)
Storage Operating Temperature
5-40° C (41-104° F)
AC Input
220/230 VAC - 15A
110/120 VAC - 15A
Power Supply
24 VDC - 13A
Connectivity
USB, Micro SD, LAN
Steel Cabinet/Frame Construction
2mm (.08″) Powder Coated
Clear Panels
Polycarbonate
Heated Print Bed
Anticorodal 6082
Printing Specifications

A2
A4
Printer Technology
FFF (Fused FIlament Fabrication)
Number of Extruders
2 or 3
Maximum X-Y Axis Speed
300 mm/s (11.8″/s)
Maximum Z Axis Speed
2 mm/s (.08″/s)
Maximum Extruders Speed
43 mm/s (1.7″/s)
Build Envelope — W x D x H1
600 x 325 x 500 mm
23.6 x 12.7 x 19.6″
295 x 195 x 190 mm
11.6 x 7.6 x 7.4″
Positioning Precision — X-Y Axes
11 Microns (.000433″)
Positioning Precision — Z Axis
5 Microns (.0002″)
Positioning Precision — Extruders
.9 Microns
Filament Diameter
2.85 mm +/- .1 mm
Standard Nozzle Diameter2
.4 mm (.01575″)
Maximum Extruder Temperature3
430° C (806° F)
Maximum Heated Bed Temperature4
160° C (320° F)
Maximum Heated Chamber Temperature5
90° C (194° F)
Minimum Layer Thickness
50 Microns (.00197″)
A2 3D Printer from 3ntr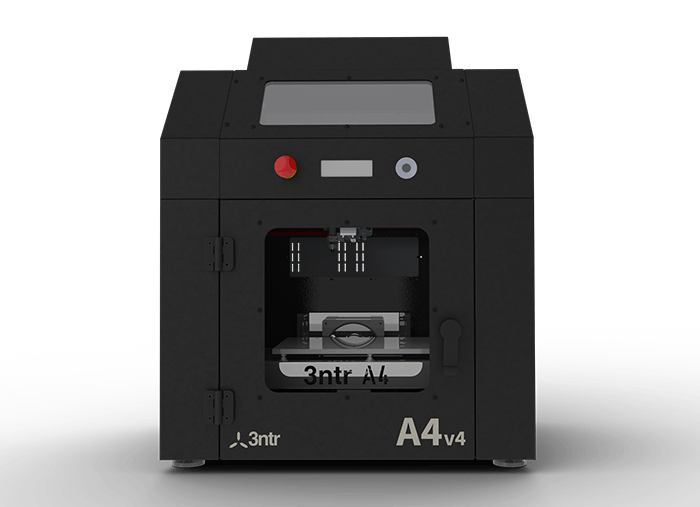 A4 3D Printer from 3ntr