Change between Toolroom Ops™ and Production Ops with the flip of a switch.
Let's start with the big question: What sets this machine apart?
Its dual personalities, of course. You'd expect a machining center to work as a production machine, and this one does. In Production Ops, it's a full featured, 3-axis mill with a 16-tool carousel—perfect for low volume production. When you flip the switch over to Toolroom Ops™, it does something unique.
Toolroom Ops lets you operate the machine like a TRAK DPM. You can use it manually with DRO, and 2 or 3 axis CNC. Plus, your chips and coolant are contained. You get the flexibility of a bed mill, the power of the ProtoTRAK, and no mess on the floor!
TRAK DPMs are a worldwide favorite tool for shops involved in short run production and prototyping. That's due to the awesome power and ease-of-use of the ProtoTRAK CNC. The same ProtoTRAK technology that's in every TRAK Toolroom Machining Center.
See TRAK TMC models, features, specs and options
The ProtoTRAK RMX — the most technologically advanced ProtoTRAK ever — is at the heart of each machining center.
The touchscreen is the most obvious feature of the RMX. It's the key to a more efficient user interface, and the many features within the control. Here are some of the biggest:
Ability to do manual machining
Powerful solid model graphics
Enhanced ProtoTRAK Assistance
Defaults and User Profiles
Auto Geometry Engine®
Prompted programming events
Electronic handwheels and TRAKing®
Synchronized Program, Library and Carousel tools
See more details about the ProtoTRAK RMX CNC
TRAK TMCs are available through authorized distributors and directly through TRAK Machine Tools. Please give us a call at 800‑421‑6875 or request a demontration or quote online.
---
TRAK Toolroom Machining Center Models
TRAK TMC5 Specifications:
Table Size: 27.56″ x 15.75″
Travel (x, y, z): 20″ x 16″ x 20″
Footprint: 85″ x 129.25″
Horsepower: 15/10
TRAK TMC7 Specifications:
Table Size: 35.43″ x 19.69″
Travels (x, y, z): 30″ x 20″ x 20″
Footprint: 97″ x 135″
Horsepower: 15/10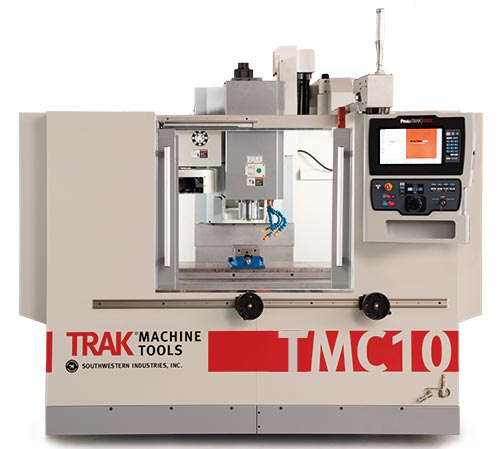 TRAK TMC10 Specifications:
Table Size: 44.09″ x 19.69″
Travels (x, y, z): 40.75″ x 20″ x 20″
Footprint: 111″ x 135″
Horsepower: 15/10