Modern Hardware Platform
CNCs are computers, and out ability to maintain support for non-current models is limited. At some point it gets more expensive to maintain an old system than to buy a new one. A new platform puts you in a more economical position, and makes it more secure as well.
KMX or RMX
You can choose from the best of the basic CNC in the ProtoTRAK KMX and the best of the full featured CNC in the ProtoTRAK RMX.
Easy Transition
You already know the ProtoTRAK, and that means you will pick up the new things right away. Before you know it, you will be working with better productivity without the usual hassle of getting used to something that is unfamiliar.
Upgrades are Available for the Following Models:
ProtoTRAK MX2
ProtoTRAK MX3
ProtoTRAK M2
ProtoTRAK M2
TRAK AGE2
TRAK AGE3
ProtoTRAK EMX
ProtoTRAK Edge
ProtoTRAK SM2
ProtoTRAK SM3
ProtoTRAK KMX
ProtoTRAK SMX
---
ProtoTRAK Edge
Manufacturered from 2000 to 2005
ProtoTRAK MX2 and MX3
Manufacturered from 1992 to 1996
ProtoTRAK M2 and M3
Manufacturered from 1996 to 2001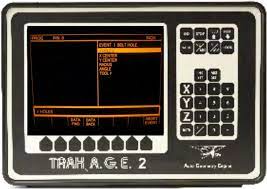 ProtoTRAK AGE2 and AGE3
Manufacturered from 1996 to 2001