Models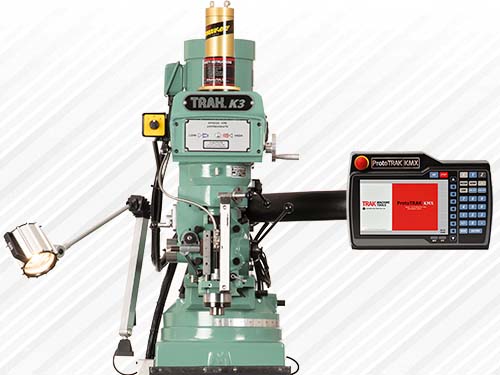 TRAK K3 KMX Knee Mill
Model: TRAK-K3KMX
2-axis CNC, 3-axis DRO
Work manually or with CNC
ProtoTRAK KMX CNC
The ProtoTRAK® KMX is the best CNC TRAK has ever made for knee mill applications. With the advanced technology, power and flexibility of the KMX, you can accomplish anything from quick manual jobs to complex profiling.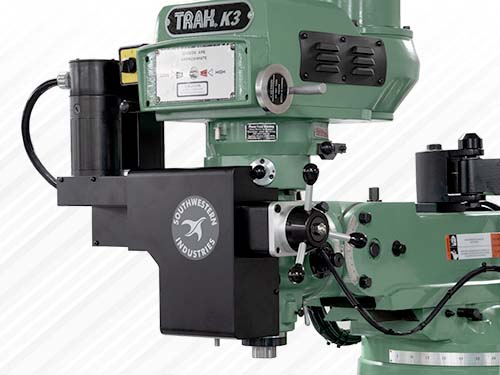 TRAK K3 KMX-3 Knee Mill
Model: TRAK-K3KMX-3
3-axis CNC, 3-axis DRO
Work manually or with CNC
ProtoTRAK KMX CNC
The K3 KMX-3 uses a quill drive for 3-axis machining. The mill can be run manually, or as a 2-axis or 3-axis CNC. Manual quill control is accomplished with electronic handwheels. The K3 KMX-3 is the most versatile of our knee mill machines. For most 3-axis machining applications however, we highly recommend our TRAK Bed Mills.
Standard Features for All TRAK Knee Mill Models:
Precision 7207 P4 spindle bearings
Glass scale for quill Z readout
Precision ground ballscrews installed in the table and saddle
Chrome ground quill
Wide way surfaces are hardened and ground
Slideways are Turcite® coated
Real handwheels so you can work manually
Meehanite® castings
ProtoTRAK KMX CNC
Easy to learn and use
Improved Auto Geometry Engine®
Outstanding graphics
Powerful offline programming for using our Advanced Software Options
Can handle quick manual jobs to complex profiling
Specifications
| | All Models |
| --- | --- |
| Table Size | 50″ x 10″ |
| T-Slots (Number x Width) | 3 x .625″ x 2.5″ |
| Table Travel | 32″ |
| Saddle Travel | 16″ |
| Knee Travel | 16″ |
| RAM Travel | 15″ |
| Maximum Quill Travel | 5″ |
| Quill Diameter | 3.375″ |
| Spindle Taper | R8 |
| Spindle Speed Range RPM | 60-500, 600-4200 |
| Head Tilt | 45° forward and back, 90° left and right |
| Quill Feeds per Revolution of Spindle | 0.0015/0.003/0.006″ |
| Spindle Motor HP | 3 HP |
| Power Requirements - Control | 110V, 1P, 10A |
| Power Requirements - Machine | 208/480V, 3P, 8.5/4.25A |
| Maximum Weight of Workpiece | 750 lbs |
| Dimensions | 71″ (length) x 59″ (width) x 84″ (height) |
| Rapid Speeds | 100 IPM X, Y |
| Way Surface Type | Dovetail X/Z, Square Y |
Options
Machine Options
Software Options