Current software version: 5.18
Applications: TRAK SX Series Lathes, SX Series Bed Mills, SX Series Knee Mills, SMX-equipped Retrofits
Release notes for version 5.18
Added support for floating software license.
Previously released "software license" has been renamed to "Standard software license", where it is node locked or fixed to one machine.
Added installation path to registry.
Release notes for version 5.16
Fixed issue with not being able to switch between Mill or Lathe product.
Release notes for version 5.15
Added support for software license.
Added service code 603 for managing software license.
Fixed issue from previous 5.13 release with some file converters not working properly.
Instructions
Download the zip file to anywhere on your computer.
Open the zip file, and double click on the SXOL_x.x.exe file to begin the installation process.
---
If prompted by the User Account Control, click on YES.
---
If this is your first time installing, simply click on NEXT.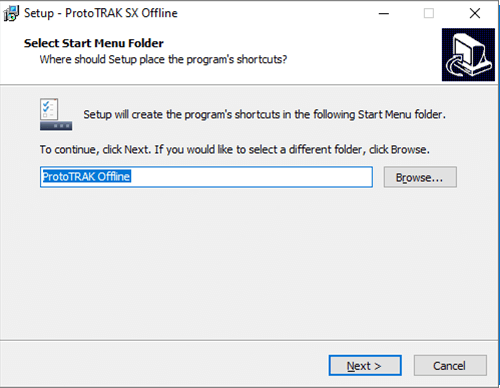 ---
Click on INSTALL to being installation.
---
If this is your first time installing any of our ProtoTRAK offline products, you will need to check the options below to install additional components, and then click on FINISH.
---
This installer automatically creates a shortcut on your desktop and in your Start menu. To launch the software, simply use the shortcut for "ProtoTRAK SX Offline".