This article was originally published by Andreas Groezinger for siemens.com. TRAK Machine Tools has been given permission from Siemens AG to present this content.
When is a machine tool most productive?
For more details, a demo or a quote for the Run MyVirtual Machine option for the SINUMERIK ONE:
Request Info or Quote
That's an easy one: When it's producing chips!
All activities that stop the machine from producing chips should therefore be moved to CNC production planning if possible. However, this requires that the work environment, i.e. the machine and its CNC application, is simulated as closely as possible there: a case for the digital twin!
Tasks for the digital twin in production planning
---
"I use simulation tools to find out whether my 5-axis milling center can even produce a particular part and, if so, how long the CNC program and consequently the production process will take. Only then can I come up with a quotation!"
Statement by a CNC contract manufacturer
---
Run MyVirtual Machine — for valid, meaningful production simulation
To exploit the machine tool as best possible for actual production and to move everything else into the virtual environment: This is a basic trend and paradigm shift in production facilities of all sizes – from the job shop through to the fully automated production line. Siemens has a software solution for this very task: Run MyVirtual Machine. It is available for the first time for the new high-end CNC SINUMERIK ONE.
Siemens does not only produce CNC equipment, it also operates machine tools – in its motor and gearbox factories, for example. The production managers and CNC production planning departments operating there are constantly required to demonstrate their productivity and competitiveness as internal CNC contract manufacturing companies. They were important input suppliers and pilot users for the new software.
Run MyVirtual Machine — more than a virtual SINUMERIK!
Runtime measurement at the PC for quotations and production planning
What does Run MyVirtual Machine have to offer in concrete terms?
First off, it is a virtual CNC whose behavior is identical to that of the real CNC in the machine. This must not be underestimated! A CNC is adapted to a particular machine based on several thousand items of machine data.
Many simulation suppliers fall down here, as the CNCs in their software solutions only simulate to a sufficiently accurate degree. The testing of CNC programs is only possible to a limited extent and the measurement of CNC runtimes is downright impossible.
The virtual SINUMERIK has a clear advantage here. CNC programs are tested with exactly the same CNC setup as in the machine. The CNC program runtime can be measured with an accuracy of over 90%.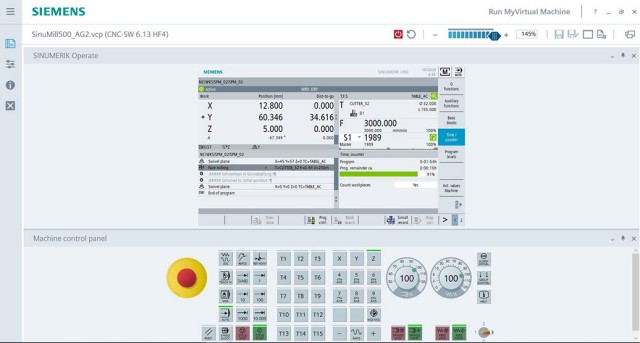 Runtime measurements with Run MyVirtual Machine supply valuable information for quotation costing and production planning.
VIDEO: Runtime measurement with Run MyVirtual Machine on the PC
Identical operating and programming interface
Run MyVirtual Machine with SINUMERIK Operate also offers exactly the same CNC interface as on the machine. This means that the same programming tools, such as ShopMill workstep programming, are available – for example, for creating CNC programs during CNC production planning. An advantage not to be underestimated: The operating interface is exactly the same as in the real CNC. Adaptations, such as minor changes in component geometry, can therefore also be carried out quickly on the shop floor.
Identical operating and programming interface in Run MyVirtual Machine/Operate, e.g. during workstep programming with ShopMill
VIDEO: ShopMill on the virtual machine. Immediate creation of small NC programs, fast program adaptations, effective and low-risk personnel qualification
Virtual view of the machine space
As well as the virtual CNC, Run MyVirtual Machine can come with the /3D option, which allows it to provide a virtual image of the machine space, tools and clamping devices:
The virtual image of the machine and the setup of the virtual CNC are provided by the machine tool manufacturer.
Tools and clamping devices can be managed by the machine users themselves.
All in all, this creates ideal conditions for CNC production planning.
Run MyVirtual Machine /3D provides a virtual image of the machine. Clamping and production of the workpiece can be verified in the simulation – from every conceivable viewing direction and with a zoom for the critical areas of the workpiece and the machine situation.
VIDEO: Preview of clamping situation and production in the machine space with Run MyVirtual Machine /3D
Program monitoring and collision avoidance
One of the main objectives is to prevent a machine crash. Run MyVirtual Machine /3D with its integrated collision detection is perfectly equipped to handle this eventuality. Collisions are displayed visually in the simulation and logged.
Collisions occurring during execution of the NC program are highlighted in color by Run MyVirtual Machine /3D and logged. Here: Collision with the workholder.
VIDEO: Detecting collisions with Run MyVirtual Machine /3D. Damage to machine, tools and workpiece can be effectively prevented as a result.
Uniform interfaces and operation
The full operation of the CNC and the machines is visualized. Run MyVirtual Machine works without smoke or mirrors. Even process actions such as calculating zero offsets are performed to simulate real life on the shop floor. The instruction of new operating personnel or trainees can therefore take place in the virtual environment based on a safe and reliable process – CNC and machine training 4.0, so to speak!
Zero offset in JOG mode with Run MyVirtual Machine /3D
VIDEO: Setting the zero offset during simulation with Run MyVirtual Machine /3D