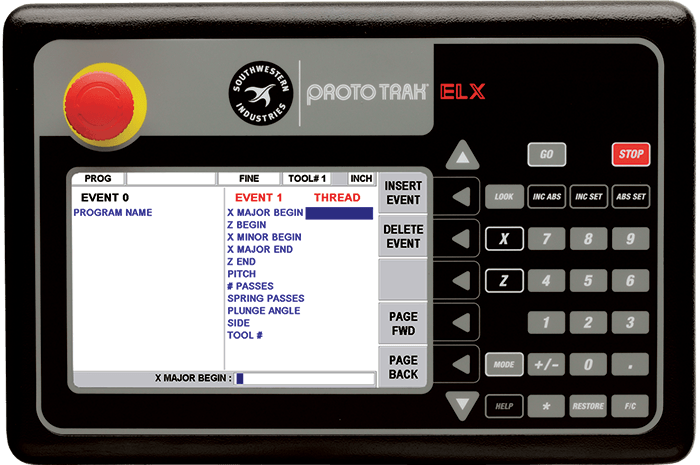 ---
Learning the ProtoTRAK®
Even if your people have never used a CNC before, they will be able to learn the ProtoTRAK in just a few hours. From the first day you own it, your people will discover that it is easier to make parts with a ProtoTRAK than it is to use manual machining methods. They'll quickly find, like thousands of machinists before them, that the effort to learn the ProtoTRAK will pay off in job satisfaction.
---
DRO Mode
DRO Mode gives you CNC functionality for manual turning work.
Canned Cycles
Position
Drill/Bore
Turn
Arc
Cycle
Thread
Repeat
---
Part Graphics
Press the LOOK key while programming to see programmed events with color graphics.
---
Cycle
Just program the profile you want and the ELX will program the toolpath to clear the stock for you.
---
Tool Setting
Set tools easily wit hte prompted, graphical interface. Tool data is applied to CNC and manual machining.
---
ProtoTRAK ELX CNC Specifications
Hardware
Digital Servo Amplifiers – custom designed for ProtoTRAK operation
D.C. Servo Motors – rated at 280 in-oz. continuous torque
Precision Ball Screws
Modular Design – simplifies service and maximizes uptime
115V/60Hz
10 amps
Feedrate Override of programmed feedrate and rapid
Polycarbonate Sealed Membrane Keypad to lock out contamination
7.0" Color LCD with adjustable contrast
On board IDE flash memory storage for part programs
2 USB ports for interface with a storage device
Rugged Industrial PC
Electronic Handwheels for manual operation
Fine/coarse selectable manual movement
Jog button in DRO
Options
Remote Stop/Go (RSG) switch
USB thumb drive for program storage and transfer
Software
Diameter Cutter Compensation
Circular interpolation
Linear Interpolation
Conrad – provides automatic corner radius programming
Incremental and Absolute dimensioning
Error Messages – to identify programming mistakes
Fault Messages – for system self-diagnostics
Parts graphics display
Look – a single button press to view part graphics
Machine Tool Error Compensation
Backlash Compensation
Selectable Inch/mm measurement readout
Jog from 1 to 100 inches per minute
Continue Turn to eliminate repetitive data inputs while programming
Context help information
CAM to ProtoTRAK conversational language file conversion
Cycle event to automatically program roughing passes
Tool table and tool offsets for CNC and manual operation
Free offline programming available for download from our website