Specifications
TC820si

Capacity

Height of Centers
41.3″
Maximum Swing
15.75″
Swing Over Carriage Cover
11.81″
Maximum Turned Length (varies with workholding)
20″
Maximum Turned Diameter
8.66″
Tool Section Max
0.75″
Rapid Speeds
787 IPM on Z Axis
590 IPM on X Axis
X-Axis Travel
6.90″
Z-Axis Travel
20.8″

Headstock

Spindle Nose Front
A2-6
Chuck Diameter
7.88″
Drawtube Thread
M74 x 2.0 x 35 mm
Bar Capacity
2.56″
Spindle Length
varies with workholding
Spindle Bore
3″
Spindle Front Bearing Diameter (ID)
4.33″
Number of Bearings
4
Drive System
Belt drive
Spindle Speed Range RPM
10-4,000

Tailstock

Quill Travel
4.13″
Quill Diameter
2.36″
Quill Taper Hole
MT4

Spindle

Motor Peak Horsepower (480V)
38 HP
Motor Continuous Horsepower (480V)
14.75 HP
Maximum Torque
100 ft-lbf @ 2,000 RPM

Turret

Number of Tools
12 Stations
Turning Tool Shank Dimensions
0.75″ x 0.75″
Maximum Boring Bar Diameter
1.25″

Power Requirements - Machine

Voltage
480V
(208V with transformer option)
Amps Full Load Current
38A @ 480V
87A @ 208V
Phase/Hz
3/60

Dimensions

Net (L x W x H), lbs.
117″ x 80″ x 65″
8,000 lbs
Shipping (L x W x H), lbs.
120″ x 90″ x 87″
8,500 lbs

Other

Coolant Reservoir Capacity
33.5 gal
Coolant Pump Delivery
5.3 GPM @ 30 psi
Way Lubrication Capacity
3 liters
Way Lubrication Oil Type
ISO VG 68 or 20 W
Hydraulic Oil Capacity
11 gal
Hydraulic Pump Type
Combination pump vane
Chip Conveyor Motor
200 Watts
Way Surface Hardness
HRC 48~52
Options
Machine Options
Software Options
SINUMERIK ONE Features & Options
Control Hardware
SINAMICS S120 Combi Drive
A power module with integrated infeed, motor modules for 4 axes (spindle and 3 feed axes). The combi drive has integrated external fans inside the heat sink installed on the back of the drive. It has an integrated brake control function for the motor holding brake and temperature sensor that activates an alarm if the temperature goes above the set threshold.
SINUMERIK ONE PPU 1740-1900
SINUMERIK ONE offers modularity, openness, flexibility and uniform structures for operation programing and visualization. It has integrated drive system SINAMICS S120 and S7-1500 PLC for medium and high-performance application. It offers high flexibility, excellent dynamics response, precision and optimum integration into networks.
Machine Control Panel (MCP398C)
The elegant, minimalist MCP-398C has buttons to control the machine operation. Well positioned and clearly marked keys enable you to select X, Y, Z or spindle, select operating modes such as Jog, Auto, Manual Data Automatic (MDA), and activate various motors including augur, coolant, washdown, skimmer, and spindle cooler etc...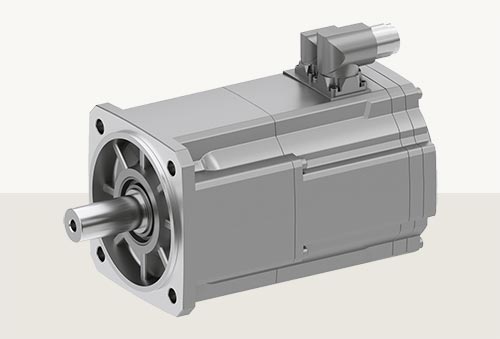 SIMOTICS S-1FK2 Axis Motor
SIMOTICS S-1FK2 are permanent magnet synchronous motors with high overload capability and integrated encoder system for speed and position control. It uses separate power and feedback cables to connect to SINAMICS S120 servo system. The motor has a 22-bit absolute encoder and connects to drive using the advanced DRIVE-CLIQ interface.
SIMOTICS M-1PH8 Spindle Motor
The SIMOTICS M-1PH8 is a compact induction asynchronous spindle motor capable of handling extreme duty cycles and short rise times. It is exceptionally precise in terms of speed, torque and positioning. It uses separate power and feedback cables to connect to SINAMICS S120 servo system. The motor has 22-bit incremental encoder, it connects to the drive using the advanced DRIVE-CLIQ interface.
---
Control Features
Note:

(O)

= optional
General Operation
Touchscreen

19" LED Multi-Touch Screen
Pan, zoom, pinch, rotate and scan, page up/down, swipe to top/bottom

Spindle Functions:

Thread cutting with constant or variable pitch
Tapping with compensating chuck and rigid tapping

Context sensitive help key you press for thorough explanations
Tool Tips – Pop-up descriptions within programming that automatically appear
Tool names make it easy to recognize tools available and assign sister tools
Dynamic images change with the selection of the field
Easy In/mm conversions
Font colors organize G codes for quick inspection
Familiar file management for storing and retrieving programs in a recognizable interface
Linux based operating language
Open architecture allows you to add apps, refine canned cycles
Soft keys intuitively guide you as you work, and a small number of hard keys mapped to machine functions
Built-in keyboard and calculator that appears automatically when needed.
Multiple channels - 4 channels; 6 axes of control standard (12 axes requires additional hardware)
Language support - English, German, Spanish, Chinese and more
Animated Elements
Throughout the operation of the SINUMERIK ONE, you will encounter Animated Elements. These clever mini-videos help you instantly grasp the underlying issue, enabling you to respond quickly and confidently.
Contour Editor
This powerful tool works within the all the programming methods of the SINUMERIK ONE. Use graphical elements to create even complex shapes. Automatically calculates intersections and points of tangency.
Also use Contour Editor to work with elements in DXF files. Open the drawing data within the Contour Editor, then use define tool path and even edit the geometry.
Programming Operation
Canned cycles make programming fill-in-the-blanks easy
In-process error detection explained in plain language
Math calculations in data input fields
Easy transition between programming, manual and automatic CNC operation screens
Selectable views – wireframe or model
Program summary - easily inspect even your largest programs
Easy program restart from stopping point
Easy building of programs – Combine G-code and conversational programming in the same program
Run time clock
Show G-code during program run
Soft limits for collision avoidance
Fast block processing time
Run time clock
Selectable programming for the style that fits your job and your shop - ISO, DIN, ShopTurn, programGUIDE
Automatic staging of next tool in ShopTurn conversational
Macro programming - Calling and running, master programs and subprograms
Residual machining detects and machines material left over from the tool and part geometry.
Powerful Program Simulations
True representations of part and tool geometry.
3D graphics with zoom and rotation of viewing angle.

(O)

Controls for program speed, single block operation and stop/start.
Calculations for machining time.
Run simulations of different programs as a job is being run.
Use simulations:
As you program to verify the program accuracy.
Before you run to calculate cycle times and check for crashes.
During run so you can see the program progress when coolant keeps you from seeing the actual part and tool

(O)
Tool Probing
Probing is integrated into the Jog Mode so you can set up tools easily and quickly.
Powerful DRO (manual mode) Routines
Part set up manual or with a probe.
Tool Setups
Setting tools is simple due to the icons and Animated Elements that guide your selections. You define number of flutes, tip angle, cutting edges, holder angle, tool type and even tool life. A Magazine view shows which tools are in the magazine.
Tool, Spindle, M-Code (TSM)
A single key gives you access to features such as loading tools, activating a work coordinate or turning on a spindle. Unlike the cumbersome MDI of other production controls, all operations are commanded by answering conversational prompts. This greatly simplifies set up.
Return from Jog (REPOS)
While running programs, the SINUMERIK ONE can halt the current operation and the tool tip can be jogged away from the part surface, allowing you to inspect the tool or part. the REPOS feature let's you return to the part where the machining was stopped.
Mid-program Start
Stuff happens, power outages, tool breakage, unanticipated moves. The SINUMERIK ONE gives you unprecedented ability to get back to where you were in the part with a high degree of confidence and with minimal work. Powerful Block search and Interrupt point combine to get you started exactly where you left off or at a point before…just to make sure. This powerful routine even enables a tool retract/recover that is able to define the exact location and proper speed to recover a tap stranded by an unplanned interruption.
---
Control Options
Note:

(O)

= optional
DXF Reader (P56)
(O)
Open DXF files on the SINUMERIK ONE to easily transfer data into your program. Program faster and reduce errors on programming dimensions. Open and use elements of multiple DXF files in the same program. Works within all the programming methods. Easily command specific features from drawing elements. Set your own part reference independent of the drawing origin.
Execution from External Memory (P75)
(O)
Enables the use of an external memory device for running and editing programs. Allows your memory device to function like an expansion of your internal SINUMERIK ONE memory, without any restrictions on programs, subprograms, commands or even transferring to another machine.
Residual Material Detection (P13)
(O)
The SINUMERIK ONE automatically recognizes Rest Machining situations, simply call up the Residual Machining canned cycle, enter a few simple inputs and the control does the rest.
Match the tool to the operation for fastest machining: large tool for hogging, smaller tool for regions the large tool won't reach. Multiple Residual Machining cycles in the same feature gives you the flexibility to minimize cycle times.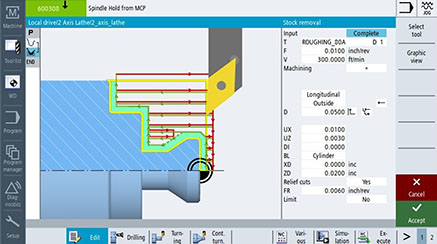 ShopTurn (P17)
(O)
True conversational programming you can do right on the shop floor. Write complete part programs or insert a feature within another program. With guidance from Animated Elements, Tool Tips, Dynamic Graphics, Canned Cycles and Context-Sensitive Help to guide you can create programs with ease. You won't have to go back to the person who programmed the part to fix or add to your program.
Simultaneous 3D Run (P22)
(O)
3D Solid model graphics real time while running a program. It is a great way to check the progress of your job, especially when you are running a lot of coolant.
Handwheel Run (M08)
(O)
Run the programmed moves by turning the handwheel. You control the feedrate by moving the Manual Pulse Generator on the control panel and the actual programmed path is moved. Adjust the relationship between the handwheel turns and the feedrate with 4 different resolution settings. Seamlessly go between Handwheel Run and fully automatic CNC run. Great for setups and for confidence making that first part!
Downloads
[.tcsi-resources]