Linear Roller Bearing Slides on All Axes
For high-precision, high-performance applications, linear roller bearing slides provide superior vibration absorption due to enhanced slideway stiffness and large bearing contact area.
Heavy machine tool construction provides mass for rigidity and heavy cuts.
Solid Meehanite® ribbed casting for vibration absorption and rigidity.
24-station Tool Magazine
features bi-directional, preselecting random tool changes and will accommodate tools up to 11.8" in length.
Dual Arm Style Automatic Tool Changer
pre-stages the next tool for a 2.5 seconds tool-to-tool change.
Steel concertina guards on all axes to protect the castings, slides and precision ground ballscrews.
Direct drive on three axes provides a rigid connection between the motor and the ballscrew for optimum servo control. This enhances accuracy and eliminates backlash.
Pretensioned ballscrews to compensate for thermal expansion.
Automatic lubrication controlled by the CNC system that monitors and distributes oil to the guideways and ballscrews to ensure all critical components are lubricated with the correct amount of oil at all times.
Coolant Through Spindle (CTS)
delivered at high pressure efficiently dissipates chips and heat from pockets and holes during machining. This greatly enhances cutting performance, accuracy, surface finish and tool life.
Coolant system
features two 1HP pumps one each for chip washdown and spindle coolant; and one 4HP pump for the Coolant Through Spindle feature.
High-capacity coolant tanks 60 gallons for the VMC7si.
Fine chip strainer has a stainless-steel metal screen with 0.7 mm x 0.7 mm openings to prevent large chips from clogging the coolant pumps.
Chip Conveyor
features a rear collection and side discharge system with a high rate of material removal.
Spindle air blast to remove contamination from the spindle and tooling during tool changes.
Independent spindle oil cooling system
to minimize temperature rise in the spindle by maintaining optimal temperature. (VMC7si and VMC10si only)
Spindle oil chilling system
to minimize temperature rise in the spindle by maintaining optimal temperature. (VMC12si and VMC14si only)
Large single front and side doors
allow for easy access and integration with automation.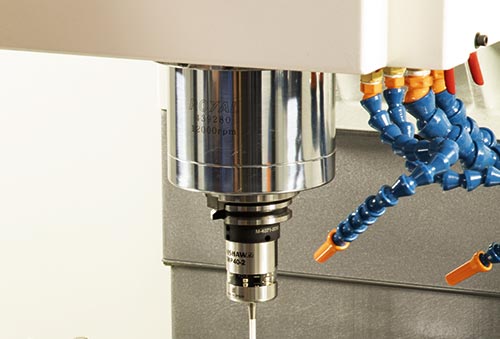 Advanced 12,000 RPM Royal® Spindle
provides high axial thrust and generates minimum heat. It uses four P4 class angular contact bearings for optimal spindle support and rigidity. The labyrinth sealed design on the spindle nose prevents fine particle contamination during machining and being pressurized to 1 bar it also stops coolant ingress.
Hybrid Ceramic Bearings in the spindle are smoother and more precise than steel bearings, generating less friction and heat. These bearings require 40% less lubrication and have a longer life because they do not corrode or conduct electricity – a common cause of pitting and failure in steel bearings.
1,000 IPM feedrate with aggressive acceleration and jerk control for ultra-fast positioning and reduced cycle times.
Absolute position encoders to eliminate homing and enhance precision.