TRAK DPM RX2 Bed Mill
Footprint and feel of a knee mill, with added strength & capacity
Specifications
| | RX2 | RX3 | RX5 | RX7 |
| --- | --- | --- | --- | --- |
| Table size | 49″ x 9″ | 50″ x 10″ | 50″ x 12″ | 76″ x 14″ |
| T-slots (number x width x pitch) | 3 x .63″ x 2.5″ | 3 x .63″ x 2.48″ | 3 x .63″ x 2.52″ | 4 x .63″ x 2.5″ |
| Travel (X, Y, Z axis)* | 31.75″ x 16″ x 25.5″ | 31.5″ x 17″ x 25.81″ | 40″ x 20″ x 25.81″ | 60″ x 23″ x 24.25″ |
| Quill diameter | 3 3/8″ | 3 15/16″ | 3 15/16″ | 4.56″ |
| Maximum quill travel | 5″ | 5″ | 5″ | 5.5″ |
| Spindle taper | R8 | 40 Taper | 40 Taper | 40 Taper |
| Spindle speed range RPM | 40 - 600, 300 - 5000 | 40 - 600, 300 - 5000 | 40 - 600, 300 - 5000 | 40 - 600, 300 - 5000 |
| Spindle center to column face | 18.5″ | 20.5″ | 20″ | 24″ |
| Head swivel (side to side) | +/- 90° | +/- 90° | +/- 90° | +30° CW and -90° CCW ** |
| Quill feeds per revolution of spindle | 0.0015/0.003/0.006″ | 0.0015/0.003/0.006″ | 0.0015/0.003/0.006″ | 0.0015/0.003/0.006″ |
| Spindle motor HP (vari-speed head) | 3 HP | 5 HP | 5 HP | 7.5 HP |
| Power requirements - machine/control | 200-240V, 3P, 27A | 200-240V, 3P, 35A | 200-240V, 3P, 35A | 200-240V, 3P, 42A |
| Maximum weight of workpiece | 1320 lbs. | 1320 lbs. | 1760 lbs. | 2200 lbs. |
| Height of table from bottom of bed | 36.75″ | 36.75″ | 40″ | 38.75″ |
| Max spindle nose to table | 25.5″ | 25.81″ | 25.81″ | 24.25″ |
| Min height | 86.63″ | 87.5″ | 87.5″ | 87.875″ |
| Max height | 91.75″ | 96.75″ | 102″ | 107.625″ |
| Width of machine including table | 71.25″ | 73.5″ | 94.13″ | 110″ |
| Length with electrical door closed | 73.31″ | 76.63″ | 82.5″ | 94.5″ |
| Length with electrical door open | 93.88″ | 96.63″ | 103″ | 119″ |
| Overall width incl full table traverse | 102.53″ | 102.25″ | 131.06″ | 168.5″ |
| Footprint of machine | 23.13″ x 40.5″ | 24″ x 43.31″ | 24″ x 48.4″ | 42.52″ x 63″ |
| Weight net / shipping lbs. | 3200 / 3500 | 4100 / 4400 | 4400 / 4700 | 7480 / 7700 |
| Rapid traverse X, Y, Z | 250 IPM on X, Y and Z with Mechanical Handwheels, 400 IPM on X and Y, 250 IPM on Z with electronic handwheels | 250 IPM on X, Y and Z with Mechanical Handwheels, 400 IPM on X and Y, 250 IPM on Z with electronic handwheels | 400 IPM on X and Y, 250 IPM on Z | 400 IPM on X and Y, 250 IPM on Z |
| Coolant capacity | 10 gallons | 10 gallons | 10 gallons | 10 gallons |
| Drilling max capacity in mild steel | 1″ dia. | 1″ dia. | 1″ dia. | 1″ dia. |
| Milling max capacity in mild steel | 3 inch³/min | 5 inch³/min | 5 inch³/min | 7 inch³/min |
| Tapping max capacity in mild steel | ¾ - 10 | 1 - 8 | 1 - 8 | 1 - 8 |
Options
TRAKing®/Electronic Handwheels
The feel of manual control of real handwheels, but our electronic handwheels bring the power of the CNC to your fingertips through features such as TRAKing and DO ONE. Standard for TRAK DPM RX5 and TRAK DPM RX7.
Power Draw Bar
A Torque-Rite draw bar factory installed. May be ordered as CAT or NMTB/NST. Draw bar for CAT type is longer to fit into tool holders that have the tool changer grip, or retention knob removed.
Spray Coolant
The non-fogging coolant sprayer directs a fine stream of coolant to the tool and workpiece.
Vise
Model DX6 6' Kurt vise and mounting hardware.
Chip Tray/ Splash Shield
Combines a chip pan mounted to the bed and splash shields mounted to the right and left of the column. Available factory installed only – not available after shipment.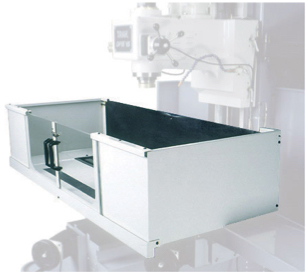 Tableguard
Provides an enclosed work-space mounted on the table. The sliding door is switched to prevent operation of CNC Run with door open.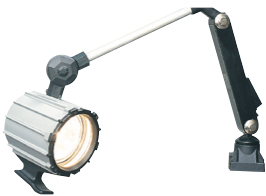 LED Work Lamp
Convenient light with bright, long-lasting LED bulb.
Remote Stop/Go Switch
A hand-held switch to stop and continue program run.
Glass Scales
A glass scale mounted on the table and saddle.
Limit Switches
Switches and brackets to set maximum travel limits. Tripping the switch will cause servo motors to shut down.
Videos
What Makes the RMX Different? | ProtoTRAK RMX CNC | Overview

Joy of TRAKing | ProtoTRAK RMX CNC

Status Window | ProtoTRAK RMX CNC | Overview

Teach Mode [Part 1] | ProtoTRAK RMX CNC | Mill Programming

Teach Mode [Part 2] | ProtoTRAK RMX CNC | Mill Programming
RX Series Bed Mills featuring the NEW ProtoTRAK RMX CNC