For cost effective, high-mix, low-volume work
Designed to be easy to learn and use, the TRAK LPM incorporates technologies to markedly reduce the changeover times that plague high-mix, low-volume shops. It is the only VMC to integrate the machine, control, fixturing, and tool offset measurements into one complete system.
This means that it doesn't require expensive probing systems that consume spindle time to measure offsets. It also means that it doesn't require a room full of special fixture to facilitate quick changeovers.
Other manufacturers install a general-purpose production CNC on a machine, load in a few parameters and leave it at that. The ProtoTRAK PMX goes beyond to reduce your work in setup.
The TRAK LPM System
The ProtoTRAK PMX CNC — technology that simplifies CNC complexity
Powerful but easy to learn and use
PMX technology eliminates the "sea of buttons" normally associated with VMCs
Integrated into the TRAK LPM VMC
3-axis CNC, 3-axis DRO (4th axis option)
Runs ProtoTRAK conversational language, G-code, CAM, 2 and 3-D CAD conversion software, and Verify Machining Simulation software
The Workholding System
Setups are faster and easier with the workholding system of the TRAK LPM. Changing from job to job does not require your machine to be idle during time-consuming fixture setups. Receivers are precisely installed to allow multiple fixtures. You can locate your part on a fixture while another part is running on the machine.
Within seconds your fixture is positioned within 0.0002″ and secured with 2,250 lbs. of clamping force.
The ProtoTRAK PMX knows the Ball Lock receiver locations. Simply reference the part to the fixture, and then load the offsets into the fixture management screen.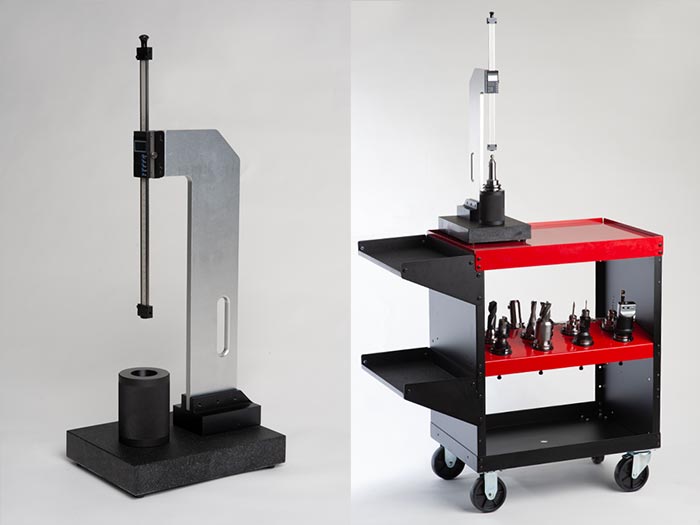 The Tool Setting System
The TRAK LPM comes standard with a tooling cart and reference tool. The tool's Z dimension is loaded into the ProtoTRAK PMX at the factory.
Setting the Z Depths of each tool is simple. Just enter the offsets from the reference tool as you touch off. Follow this simple process and you will never have to touch off tools in an idled machine.